I received a letter on April 13 and thought of every one of you. Since the inception of the National 40 Days for Life Campaigns in 2007, 7,536 babies have been saved, and always it has been said "that we know of." I received permission to share this short letter with you.
My friend told me a story yesterday. Her daughter confessed to her that she went to Planned Parenthood to have an abortion and with the protesters there. She left! This was during the 40 days campaign! Though God's grace, this was you and your faithful friends that prevented this. She subsequently went to women's clinic, was shown her baby, heard the heartbeat and was given a Bible! WOW! I thought that you would like to know. My friend is a believer; her daughter is not…yet!
This brings our total of babies saved "that we now know of" in West Chester to 31. No one knows who exactly touched that young girl to have a change of heart but without all of our prayers and presence supporting each other and asking for God's mercy her little one would not be having a birthday this coming November. All for the honor and glory of God.
MIDWAY CELEBRATION
SATURDAY OCT 5TH, 10 AM to 2 PM
BABY SHOWER
Our Midway Celebration will be on Saturday, Oct 5th from 10 AM to 2 PM. We will be hosting a baby shower in front of Planned Parenthood. Baby diapers, wipes and all other baby items up to size 4 that you can think of are welcomed. Dollar store items are always welcomed! Gently used clothing is also needed. Hopefully, we will have abundance enough to share with the Birthrights and Chester County Women Services.
It would be a blessing if you could start collecting items through your organizations etc. so we will have a great showing of caring right on the sidewalk in front of Planned Parenthood. This is a great way for school children to get involved and learn more about the pro- life movement locally. Also please stop by and donate your items and stay and pray with us for the time that you can.
I will be down in front of Planned Parenthood from 10 AM to 2 PM with strollers to put the donated items in. If you have a stroller or anything with wheels and would like to join in for whatever time you have it would be greatly appreciated. I have no idea how well this will work out as we have never done this before but all the crisis pregnancy centers are in need of any and all items, and where else better to collect them than in front of Planned Parenthood, 8th S. Wayne St.? Seeing diapers and baby items changes the abstract word of "abortion" to the reality that "children" are present not "choices".
COLUMBUS DAY
OCTOBER 12th 8 AM to 8 PM
Each Fall West Chester's 40 Days for life sets aside October 12th to show appreciation for all that the Knights of Columbus and the King's Men have done and continually do in protecting and supporting the unborn and their families. We encourage all Knights of Columbus men and King's Men to come to Planned Parenthood on October 12th to pray for an hour or two wearing their organizations insignia. It give them the opportunity to profess their beliefs openly and remind all men that abortion is not just a women issue as all men are the authors of life as God has designed them to be.
It was one Knight of Columbus man who learned later in life that he was scheduled to be aborted, who encouraged and helped David Bereit to embark on the very first 40 Days Campaign.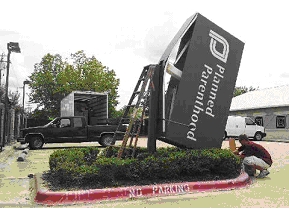 This picture shows the sign being torn down outside the CLOSED Planned Parenthood abortion center in Bryan/College Station, Texas — the site of the first-ever 40 Days for Life campaign, and the center previously directed by Abby Johnson, who had a conversion, quit her job and became a pro-life activist. Isn't that symbolic of the abortion industry as it continues to flounder and fail.
Please sign up to pray, fast and witness and make this a reality in our community. We can do it too. We just need consistent prayer presence.
MATERIAL PICK UP
If you should run out of material while praying in front of PP, there will be hand held signs and hand out material with the coupons for free pregnancy tests/ultra sound at the Moran's house front porch at 426 W. Barnard Street. 610-696-0381. They have been gracious enough to offer this convenience to us in behalf of the unborn. Barnard street is east of Planned Parenthood.
Thank you in advance in behalf of the unborn and their families. If I can help you in anyway please contact me.
God Bless
Paulette Matthews
610-286-5450 (H)
484-832-2746 (C)