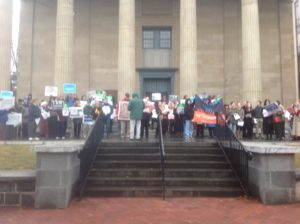 Pro-life marchers on the Old Courthouse steps
At 2:30 pm on January 22, we were welcomed to Saint Agnes church by Margaret Mary Filoromo, a past president of Chester County Pro-Life Coalitiom, who served as the Master of Ceremonies. There was an opening prayer led by Rev. Thomas Gardner, the chaplain to the Newman Center at West Chester University.
Following the Pledge of Allegiance, we sang America the Beautiful led by the Gies family who provided all of the music for the program.
The principal speaker was Msgr. Joseph Logrip, the Chaplain at Camilla Hall.  His talk was inspirational, calling the pro-life ministry "prophetic." He also cited scripture verses which required that evil be confronted.
Jo Christof, another past president, gave a talk encouraging sidewalk counseling at abortion centers.  She related two moving personal experiences of babies who were saved by her counseling.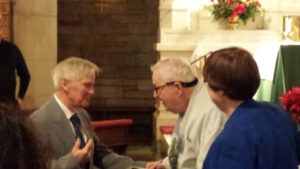 Charles Litzelman receiving the award
Following a musical interlude, the 2017 Public Witness Award was presented to Charles Litzelman, a faithful pro-life warrior, who has been active in pro-life ministry since the1970's.
After a final prayer led by Msgr. Logrip, we assembled in front of St Agnes and processed to the old courthouse where Pastor Joseph Stigora, from Covenant Fellowship Church, led us in prayer.  We ended with a rousing version of the Battle Hymn of the Republic and then walked to the Knights of Columbus hall for refreshments and fellowship.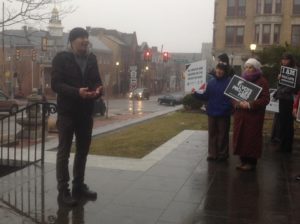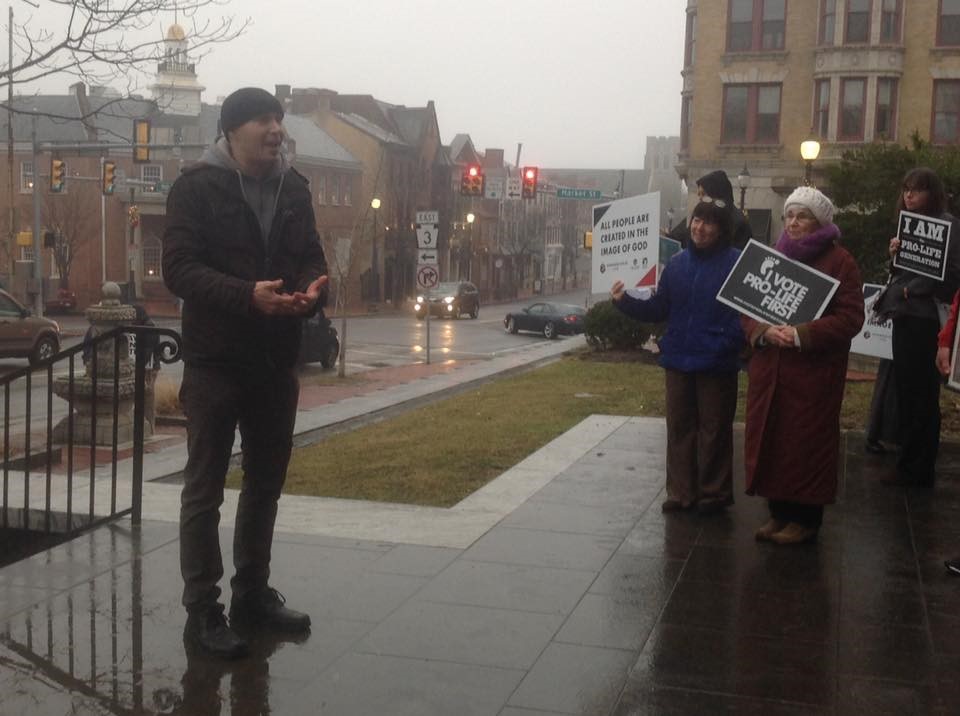 Pastor Stigora preaching
Many of the attendees agree that this was the best Chester County March for Life that they have participated in.