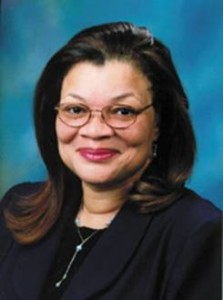 Dr. Alveda King, niece of Rev. Martin Luther King, spent a whirlwind two days in our area this past May 6th  & 7th.   Hundreds of people came out to hear her as she appeared at six different venues in two days.  She was originally invited by the Respect Life Committee of St. Peter Church to present for "Life, Love & Sexuality – The Series" on the topic of Post Abortion Healing – which she accepted.  To make the most of her time here five other locations were added.   Monday included a luncheon at the Blue Café with local clergy and educators.  Immediately following that, Bishop Shanahan High School's Pro-Life Club was her host for a well-received program, titled "Can You Hear Me Now"?  It was attended by students, teachers and members of the community.   The Presentation at St. Peter Church, "Healing the Woman, Healing the Family, Healing the Land" took place Monday evening and was attended by close to 200 people.
After a well-deserved rest, Dr. King rose early on Tuesday, May 7th to speak at a breakfast hosted by the Minister's Alliance of Coatesville & Vicinity.  Coordinated by Rev. Lorraine Acey with help from members of the Alliance, it was another well-attended event that included vibrant prayer, hymns and a delicious breakfast at the Hutchison UAME Church.   That was followed by a brief stop at Planned Parenthood in West Chester during the time abortions were taking place.  A large crowd that included students from St. Agnes School, greeted Dr. King there as she prayed forcefully for the babies, mothers, the staff and volunteers of Planned Parenthood.   She gave a brief history lesson to the students about William Wilberforce as the visit ended with all singing "Amazing Grace".  One last stop before heading to the airport was the Chester County School for At Risk Kids, where she spoke with great empathy and love to the boys and girls in that facility.
At each location, Dr. King was extremely warm and personable and gladly posed for pictures with anyone who wanted.  She was a real trooper and was pretty exhausted as she left us to head back to Atlanta.
One last note:  Arrangements for Dr. King's visit were made through Priests for Life, where she is a Pastoral Associate and Director for African American Outreach.  There was no fee charged – only expenses with a request for donations to either Priests for Life or Dr. King's own foundation, King for America.  Donations can be sent to either King for America, 3695 F Cascade Rd., #307, Atlanta, GA 30331 or Priests for Life, P.O. Box 141172, Staten Island, NY 10314 (note Trip #10243).