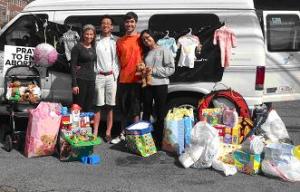 Birthright in West Chester, Birthright in Coatesville, and the Chester County Women Services join with me in thanking each and every one of you for your outstanding generosity which made our 2nd Annual Baby Shower in front of PP a great success for the children and their families.
Visible baby items on the street, show that we who pray for the lives of these children, understand that unplanned pregnancies cause great stress and turmoil in the lives of these mothers, who may have been abandoned by all others in their own lives. We are there offering alternatives to abortion and ready to support them in all their needs both spiritual and physical.
350 items and $180 were donated during this Fall Campaign. Everything is divided by three, to the best of our ability, and distributed to the three crisis centers. Besides donating items, Mary Kate Priesto, Phil Tran, Kevin Jensen and Emily Hang from Bishop Shanahan High School helped in collecting and keeping the items presentable to the passing cars and clients of PP. It is a day that helps the community to sees it is "a child not a choice".
Please continue to save used clothing items up to size 4 and collect items through the year which will help to make our 3rd Shower another great and inspiring success and a public witness to life.
Paulette Matthews
610-286-5450 (H)
484-832-2746 (C)
http://40daysforlife.com/local-campaigns/chester-county/