872 babies w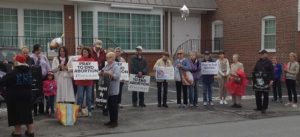 ere saved world wide during this "United" 40 Days for Life 19th Campaign. This was the largest campaign ever with all 50 United States and 23 nations participating.
Locally, Covenant Fellowship Church opened our 40 Days in West Chester with a very spiritual  and informative overview of the development and accomplishments of the pro-life movement since Roe vs. Wade was passed in 1973, encouraging  everyone to participate and share their talents to save the children and their mothers.
Our baby shower in front of Planned Parenthood received 37 donations to be divided  among the three Crisis Pregnancy centers located in WC and Coatesville. The centers thank you for your generosity in helping them help the mothers who have  chosen life for their children.
WC was so fortunate to be one of the 127 cities that was chosen to have the "United" bus stop at the Planned Parenthood where we pray.   David Bereit, made a special effort to join Steven Karen to participate in our bus stop. Rita Smith, the campaign director of Norristown's 40 Days Campaign, gave her testimony of the blessing in closing down the PP in Collegeville when she was the director there. Rita also shared her on going journey in faith and her pro-life commitment. Victoria, from Silent No More Awareness, shared her post abortive testimony and her commitment never to stop offering hope and help to other women who are abandon and feel abortion is their only option.
The attention and enthusiasm that the large group who showed up brought out the abortionist, Lee Tripp and workers who also listened to the testimonies and gave David Bereit the opportunity to pray for the first time face to face for a physician, who is still in the business of aborting children.

Thank you for coming out and welcoming the National leaders. Thank you also for bringing so many children to sign the bus and carry all our prayers from Chester County across the nation to help end abortion in America. This could be a once in a life time opportunity.
We closed this 40 Days with the carrying of the White Memorial Crosses to Planned Parenthood where we sang patriotic songs and prayed for our country to turn back to it original fundamentals of  life and liberty for everyone.  Ending our walk at the Knights of Columbus hall with our annual luncheon of thanksgiving that we were able to accomplish another 40 Days in WC because of all the sacrifices that everyone offers in behalf of the unborn and their families.
Paulette Matthews:     610-286-5450 (H-Pa)        484-832-2746 (C)