CHESTER COUNTY'S 20TH CAMPAIGN March 1st to Aril 9th
Because of your continual support, Chester County can be one of the 325 cities in 30 Countries that is participating in this Spring 2017 International 40 Days For Life Campaign. 12,668+ babies have been saved since 2007.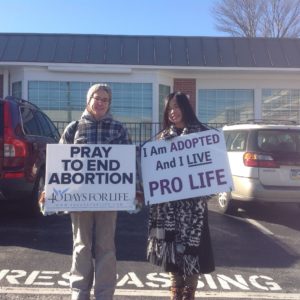 Rachel and Dara Hayes
Rachel Hayes (adoptive mom) & Dara Hayes (adopted daughter) were inspired by the fall 2016 40 Days for Life campaign to stand together every Tuesday (abortion day) throughout the year in front of their local Planned Parenthood in West Chester, PA. Dara is an international adoptee from 90s Communist China whose birth was most likely high risk to her birth mother who chose life. Dara would like others to see her as an example of how unique and worthwhile every human life is in spite of the difficult circumstances of their conception – every child has value and purpose.
ASH WEDNESDAY
MARCH 1ST 7:30 PM
ECUMENICAL CANDLELIGHT REMEMBRANCE VIGIL
IN FRONT OF PP   8 S. WAYNE ST.
In support of the mothers, who regret their abortion and for all the babies who have lost their live through abortions, we will remember them  in a candlelight prayer vigil. Also, we will be giving thanks that the tide is turning  and we are returning back to the fundamentals that our nation was founded on.  Candles are provided and flashlights are welcome as the weather might not be candle friendly.
PRAYER SERVICE IN FRONT OF PLANNED PARENTHOOD
SATURDAY  MARCH 18TH   10 TO 12 NOON
Both St. Joseph and St. Patrick had dreams that they answered and changed the world. In honor of their feast days, Chris Cassidy from Ss. Peter and Paul Catholic Church will be leading this prayer service.  The Patriot Rosary will be said and the Divine Mercy Chaplet and few hymns shared.
All men and their families are invited to make a visible stand for life.
PALM SUNDAY  APRIL 9TH  2:30 PM
THE STATIONS OF THE CROSS
IN FRONT OF PLANNED PARENTHOOD
Children and teens are invited to present the Stations of the Cross to the West Chester Community passing by.  It is most effective when the simple readings are done by 15 youths.  Jesus was willing to suffer and die so that we may all have eternal life. Without Jesus' suffering there would be no healing for the sinners and no Easter Sunday. Bring your family to participate in this service to make it possible.
Opening prayers of reflection will be led by Thomas Ackerman from Chichester Baptist Church.
40 Days Mailings
Because of the internet servers limiting the number of e-mail that can be sent per day, I have moved many of the e-mails that I send concerning 40 Days information to Mail Chimp. Mail Chimp may come into your spam folder. Please move my e-mails over to your mail box. Mail Chimp will include my name.
Thank you again for helping the unborn.
Paulette Matthews
610-286-5450 (H-Pa)
484-832-2746 (C)
https://www.facebook.com/Chester-County-Pro-Life-Coalition-375557839261073/