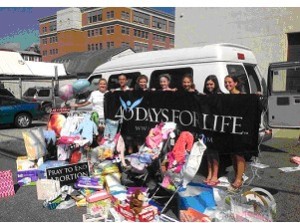 Children Clothed and Community Participation
With deep appreciation and heart felt gratitude, I join with Chester County Women Services and the Birthrights of both West Chester and Coatesville in thanking you for seeing the Christ Child in the needs of the unborn and born. Only the Holy Spirit could inspire you to be so generous in both your time and donations. Special thanks goes to the young adults of Bishop Shannahan High School, Villa Maria Academy and Sts. Simon and Jude's School who helped Don and I make the baby shower possible in front of Planned Parenthood for the children and the community. The total of baby items collected was 550 items. People driving by donated money and one man saw us and came back with baby items that he bought which he added to our collection. Many "thank you's" were extended from passing cars for what we were doing.
Another special "Thank You" goes out to those that made an extra special effort in collecting baby items at their schools and churches. Besides helping the pregnant crisis centers, this was a great way to make our community more aware of 40 Days for Life in Chester County. The more people we have praying during 40 Days and year round, the more babies and families will be saved.
2 Babies Saved in West Chester
This 40 Days Fall Campaign brought the total of babies saved internationally since 2007 to 8,012. Two of those babies were saved right at West Chester's Planned Parenthood.  This brings our total of babies saved to 33, that we know of. Consider praying an hour a month in front of Planned Parenthood and more babies will be saved from the despicable act of abortion.
Our Closing : An Unexpected Pregnancy
40 Days closing  centered around the Christ Child. We read the Nativity story as if we do not know the ending. In reading closely Luke  Chapter 1, verses 26-45 and Matthew Chapter 1 verses 18-23, we learned that Mary set out "in haste" to visit her cousin Elizabeth, whose unborn child, John the Baptist, leapt for joy at the sound of Mary's greeting.  The first recorded response to Jesus was from one unborn child to another.  . Jesus could have become man in any manner He chose, but He chose to give total value to the most vulnerable, the unborn. The season of Advent is coming upon us. A special time to remember how valuable our mothers and babies are to our society and pray they too may create a Holy Family.
God Bless us one and all,
For more information call:
Paulette Matthews
610-286-5450 (H)
484-832-2746 (C)