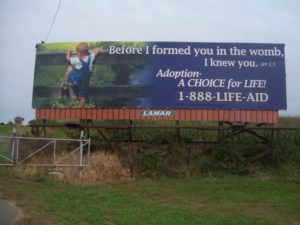 Need Your Help!
Dearest Friends,
The National Council for Adoption estimates 1.3 million couples are waiting to adopt a child. Yet each year, while 1.3 million children are being killed by abortion, less than 50,000 new children are made available for adoption. This means that for every new adoptable child, thirty others are killed and for every couple that adopts, another forty wait in line.
The good news is…TOGETHER…pro-lifers have made a concerted effort over the last 8 years to overcome the negative spin on adoption. I hope you will agree that our positive message on the PA Turnpike portrays adoption as a courageous choice, one that will give life to a child and to a family.
We know that pro-choice ends up meaning NO CHOICE but adoption offers a choice that is compassionate and in everyone's best interest.
I believe that this Billboard has touched lives and moved hearts in ways we will never fully understand in this world. That's why it is so important to support this project for LIFE!
Let me assure you that every single penny donated to this effort is deposited into a separate billboard account and the monies used exclusively for the monthly contract obligation.
God Bless ALL,
Helen MacMinn
St. Benedict's Respect Life (Make checks payable to)
2020 Chestnut Hill Road
Mohnton, PA 19540