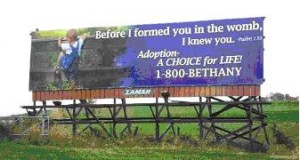 The billboard pictured here has been installed on the
Pennsylvania Turnpike heading east between the
Morgantown and Reading exits. It is designed to catch
the eye and be easily read by the many people zipping
along the turnpike
According to the National Council for Adoption
Statistics, there are nearly one million couples who want
to adopt infants. Unfortunately, there are only 17
adoptions for every 1000 abortions.
The following is a request for support to allow this to continue:
Dearest Friends,
With the contributions we have continuously received, we have been able to keep this awesome Pro-Life message alive on the PA Turnpike for almost six years now!!!!
All those that pass by this Billboard each day are reminded that a loving God planned for their births before the world began. As participants in this Project for Life we have continued to give witness to the Truth… that God is the Creator of Life and Death and only He has dominion over it.
Additionally, this message does not judge but offers a loving alternative to abortion….Adoption!
At present our funds are low and I need your help again. We have about $740 in the account and by May will not be able to support this project without your donations.
Please….would you consider sending whatever you can to continue this Pro-Life message?
 You have responded so faithfully in the past and I know that you feel as I do… that it is important to continue to bring this message to the thousands that pass by this Billboard each day.
 May God bless each and every one of you for your support and for all your efforts in rebuilding a Culture of Life in our community and throughout our nation!!!
 Love to All,
Helen MacMinn
484-354-9791
St. Benedict's Respect Life
2020 Chestnut Hill Road
Mohnton, PA19540