Forty two years ago a baby was born in Sonoma California with Down syndrome.  He was named David and he was loved and welcomed by his birth family.  David had some health problems and so did his birth family.  They very reluctantly decided that they were not able to care for him and placed him for adoption.
He was adopted by a West Chester family who also loved and welcomed him.  Last year, his adoptive mother, Mary, through her interest in genealogy and her familiarity with online records, was able to locate David's birth mother, Karen.  She reached out to her and Karen was delighted.
David's birth family consisted of a father, mother, sister, brother, grandmother, and four nieces, all of whom were thrilled. Through the internet, a communication was developed between the two families.
Recently Mary and David's sister, Maria, took him to Sonoma to meet his birth family.  They spent a long weekend meeting all of David's relatives.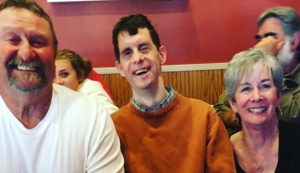 David with his birth parents
The following are quotes from two of the participants:
From David's sister, Maria:
My brother, David, is adopted. Recently, my amazing mother contacted David's birth mother to thank her and let her know he is loved and happy. As it turns out David is even more loved. His birth family has loved him and wondered about him. This past year has been a wonderful journey, helping David to get to know his birth family on the internet. This past weekend he was able to physically reunite with his biological family in California. He is one completely loved guy! A big thank you to David's first family and now our extended family!!
From David's birth sister, Stephanie
To all those involved in the reunion that took place this past week in Sonoma and, most importantly, to the amazing and generous family that adopted my brother David: thank you so very much for what you have done for our family, Mary and Maria. You personally gave me such a gift that I never thought I'd ever get. A lifelong void was filled and I owe it all to you. It was more amazing than I could have ever imagined! Seeing my mom and my dad SoOOooOoo happy to see David again was something that I like to believe mended and healed. Above all, watching my Grama with David was so huge and we owe it all to you. I love love love you.
David's two families look forward to growing together united in their love for him