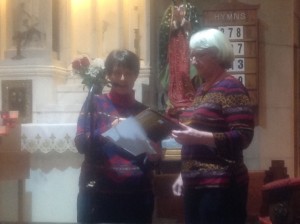 Jean Emplit receiving the Public Witness Award from Jo Christof
 The 22nd Chester County March for Life was a rousing success.  The opening prayer was led by Reverend Father Mina Shaheid, a Coptic Orthodox priest.  It was followed by inspirational talks by Bishop Shanahan students Philip Tran and Mary Kate Prieto and by our main speaker who had just returned from China and told us about the problems resulting from their "One Child" policy.
There were patriotic and religious songs led by the Gies family.  Our annual Public Witness award was given to Jean Emplit for her faithfulness in prayer at Planned Parenthood and for her leadership in arranging for and supporting the Adoption billboard on the PA turnpike.
The closing prayer was led by Pastor Don Britton Of the Stoneybrook Community Church in Glen Mills.
Following the program many of the pro-lifers marched to the old Courthouse for a short prayer service.
After which, there was a social at the Knights of Columbus hall in West Chester.