A Helpers Prayer Vigil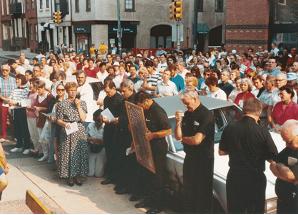 The Helper's of God's Precious Infants are a group of people committed to maintaining a loving and prayerful presence outside of the abortion mills where God's children are put to death. We unite ourselves with these victims in solidarity with their pain, as they are put to death at this modern day Calvary. We pray in reparation for the injustice being performed on their tiny bodies. Just as Mary and John lovingly stood and prayed beneath Jesus' Cross as he died, we wish to remain with these children in the hour that they are crucified.
We pray to obtain God's mercy for the abortionist and his staff who do the killing. The message of the Helpers of God's Precious Infants to the abortionist and all who help him to kill God's children is that, though we love them, we will never accept what they do.
We plead with our voices for the lives of the babies being carried in by the pregnant women who have scheduled appointments with the abortionist that day. We ask each mother to change her mind. We reach out to her with the love of Christ; we do not judge nor condemn her for what she is planning to do. We simply promise her support and assistance if she should change her mind, and prayers for her healing and conversion if she should proceed with the killing of her child..
On May 18 we will mark 20 years that the Helpers have been in the Philadelphia archdiocese. The details are:
7am Mass  on Saturday, May 18th
St. John the Evangelist Church   13th & Market Sts.,  followed by a Rosary Pilgrimage to Planned Parenthood at 12th and Locust.
All are welcome.
The Helpers function in several local sites as well as most states and several foreign countries.  In Chester County, we conduct a vigil on the first Saturday of each month.  It starts with a Mass at 8 am at St. Agnes followed by a Rosary procession to Planned Parenthood at 8 S. Wayne St. in West Chester..