The latest count of "Unexpected Blessings" saved this Spring campaign is 631+ babies as of the National 40 Days for Life report which brings the total of babies saved since 2007 to 8,876+ babies worldwide. 
In this campaign, the CovenantFellowshipChurch from Glen Mills helped to save an "Unexpected Blessing" which brought the total of our babies saved in front of West Chester's PP to 34 since 2007. 
During this Spring campaign, we had an increase in the number of churches that participated.  That translated into more hours being covered and more opportunities to offer help to potential customers of PP.  Also, our community is more aware that the Planned Parenthood in West Chester is not operating with the blessing of the Christian community. As the hours of witnessing increase, the presence of Christ increases at a place so much in need of the changing of hearts and minds.  
Feast of St. Joseph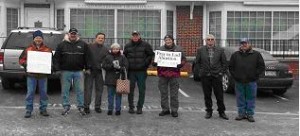 King's Men plus Ann Murray
On the Feast Day of St. Joseph, the  first arrivals of the Kings Men of Chester County who came to pray in front of Planned Parenthood met with Ann Murray by chance. 65 to 75 percent of the potential clients of PP who were offered  pamphlets by Ann, accepted them. Ann said, "That's far more than any other time I've ever been down there." She claimed it "was because the Kings Men were there praying." Jim Solnosky, one of the Kings Men  said that they, "do not doubt the power of prayer but they think Ann had a lot to do with it too."
The Knights of Columbus of Chester County also came to pray and witness on behalf of the unborn in honor of St. Joseph on his Feast Day. 
Pictures
This campaign I have been posting pictures sent to me of people witnessing in front of PP also in my 40 Days e-mails. This is the first time people have sent pictures to me and it was a blessing to see others praying and I immediately want to share that joy with you, the other prayer warriors.   If you do not get my e-mails, just send your e-mail address to me and I will add you to my list. I only send out about 4 e-mails per campaign to keep you up to date. So, please, send pictures during your witnessing time in front of PP if possible and we will get to know each other and our 40 Days for Life Campaigns better. Thank you in behalf of the unborn and their families.
The Future
Because PP in West Chester has not yet closed down, we are planning to do the Fall Campaign starting Sept 24th. We will have our 2nd Annual Baby Shower in front of Planned Parenthood on Oct 4th from 10 AM to 2 PM. Even the passing "lookie-loos" only had good wishes for us during the first Baby Shower. 
Besides the new items, all three crisis pregnancy centers take gently used clothing up to size 4. So collect any clothing that is available and save them for this baby shower, please. More details in Sept. 
 My last word is "thank you" for keeping 40 Days in West Chester viable for 7 years. If you have any suggestions, thoughts or ideas to make 40 Days more vibrant, please share. Remember the children die year round and the women cry for a life time; so, if you have any time available share it in prayer in front of PP. 
God Bless and hope to see you at all the up-coming pro-life events. 
Paulette Matthews
(H) 610-286-5450   (C) 484-832-2746
email PauletteMatthews@hotmail.com