In the 42nd  year of legalized abortions in the United States, 40 Days for Life embarks on their 14th Campaign both Inter-nationally and locally in Chester County.  8,245 babies have been spared from abortion since 2007 through prayers, fasting and  peaceful vigils of 40 Days held in front of abortion centers across the world.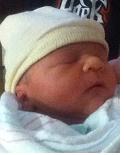 Meet Lucas, born Oct 28th, 2013. During our last Spring Campaign, Lucas' mom came to West Chester's Planned Parenthood to secure an abortion. She changed her mind when inside of PP, "especially after seeing all the people praying outside" she said.  She told her mother who took her to Chester County Women Services. She left with her first ultrasound picture of Lucas, a bible and information to carry her baby to term. Because we joined together to show Lucas' mom that there are alternatives to abortion and she matters, Lucas became the 31st of the 33 babies saved from abortion in West Chester during 40 Days. Lucas and the other 32 babies are the best recruiters for your participation in 40 Days as without you they would not be here today.
OPENING
Planned Parenthood
8 S. Wayne St. ,West Chester
Tuesday, March 4th 7 PM to 8 PM
Candlelight Prayer Hour
Glenn Henshaw, will lead our Ecumenical Prayer Gathering. Glenn and his family attends the Gateway Church in Parkesburg.  Glenn has an inspiring story of how God called him to action.
Due to the weather candles  are  not  always  practical so any type of lighting you would like to  bring would be greatly appreciated. 40 Days for Life material will be available. The vigils will start the next day, March 5th  at 8 am  They will continue from 8 a.m. to 8 p.m. for the next 40 days.
MIDWAY
Sunday, March 23rd 2 PM to 4 PM
PP and Chester County Women Services
Many of us who pray in front of Planned Parenthood have never had the occasion to visit Chester County Women's Medical Center even though we regularly offer CCWS coupons to potential customers of PP. On Sunday, March 23rd at 2 PM we will meet in front of PP for a short prayer gathering and then walk up to CCWS.  The Staff at CCWS will then talk us through the counseling process. This is a great learning experience and an opportunity to ask any questions that we might have.
CLOSING
PALM SUNDAY -APRIL 13TH
Planned Parenthood
2 PM to 3 PM
 Public participation in the Stations of the Cross reminds the community of the ultimate sacrifice of innocent life. Jesus died because he was born the Son of God; these children are killed because they were innocently conceived.
Please include your family as we invite the youth to lead us in the stations. This is the special time we give thanks for all life and give honor and glory to the risen  Christ.