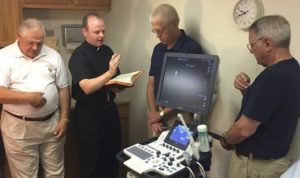 The blessing of one of the ultrasound units L to R: Charlie Carbo, Father Windle, Ken Hunt, and Joe Pizzino
On March 6, 2017, we lost a true Pro-Life warrior.  After many years in the trenches promoting life affirming decisions and defending the unborn, Joan Carbo was relieved of her battle with ALS and taken to be with the Lord.  Her husband, Charlie, in addition to being a very active pro-lifer, is a very active 4th degree Knight in the St. Maximilian Kolbe Council 11319 in West Chester, PA.
Some members of the council felt that it would be fitting to pursue a project in Joan's name to recognize her efforts and to show their respect for Sir Knight Charlie and the Carbo family.
The K of C contacted Myriam Ruager, the Executive Director of CCWS Medical, and she enthusiastically accepted their offer to help their centers once again!
Chester County Women's Services is a full-service, women's medical center serving local communities with three separate office locations.  Each has ultrasound capabilities, which has proven to be an effective tool in helping to dissuade women from having an abortion.  However, two of the sites were limping along on ancient machines that were no longer providing acceptable imaging quality with any reliability.
Word was sent out through the Council and to folks who knew Joan and Charlie, that contributions were being requested in Joan's memory for an ultrasound machine to serve for a cause most dear to her heart.  What happened next was quite extraordinary.  Funds started to roll in almost immediately.  There were several large contributors, such as the Chester County Pro-Life Coalition, and individuals who wished to remain anonymous but were also very dedicated to the project.  There were many, many others who gave what they were able.  The list of donors is long!  The total kept rising.  It was quickly apparent that they would be able to provide TWO new ultrasound machines for the CCWS offices in need!  (The total cost for the two machines would be $45,900.)  Once they had gathered half of the necessary funds, it was time to process the paperwork through the State Council for approval, and then on to the K of C Supreme Council to request the matching funds.
It was about that time that Myriam called to say that one of their ancient, old machines had just failed.  She said that it would cost them thousands of dollars to get it operational again.  Since the Knights had just passed their fundraising milestone, they were able to schedule an installation for CCWS in West Chester. That installation went smoothly on June 13th, just three short months after Joan passed away.  The second machine was installed in Kennett Square on June 26th.
On August 3rd, Fr. Windle, Council 11319's worthy Chaplain, led a small group of representatives in a blessing ceremony for both machines.  It was an emotional moment for all involved.  All the pieces had fallen perfectly into place.
This project brought together key organizations, such as, the Knights of Columbus, Chester County Women's Service, and Chester County Pro-Life Coalition. The glue holding it together was made up of individuals at all levels.  The energy that brought it all together came directly from Joan Carbo and will continue on through the vital work done with these two machines.